Medianmontage #01
2006

.
.Duration:  00:11 min. / Super8-loop
Format:  8mm, sound, B/W
.
Synopsis:
The installation "MEDIANMONTAGE 01" shows an 11 sec. lasting sequence, taken out of the Hollywood film "On the Waterfront" by Elia Kazan from 1954. It is reflecting the problematic position of Elia Kazan during the McCarthy era and the charge of denunciation.
In this regard, his film "On the Waterfront" can be understood as an justification of his attitude. The material of the 8mm film sequence is abstracted and mounted to a loop. In addition, the material is modulated by a cutting-technic, which I describe as the "Medianmontage" (M.m.). On the one hand, the M.m. evokes a split screen, in which the beginning and the end of the sequence is shown simultaneously; on the other hand, in the second half of the sequence, it comes to the point, that filmic space and filmic time do coincide – an effect that is generated as a result of the inverted narration of the splitted and modulated film material.
.


.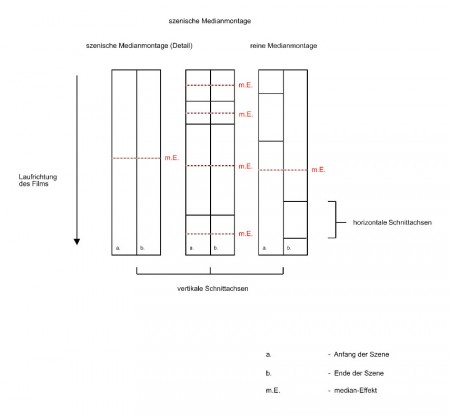 .